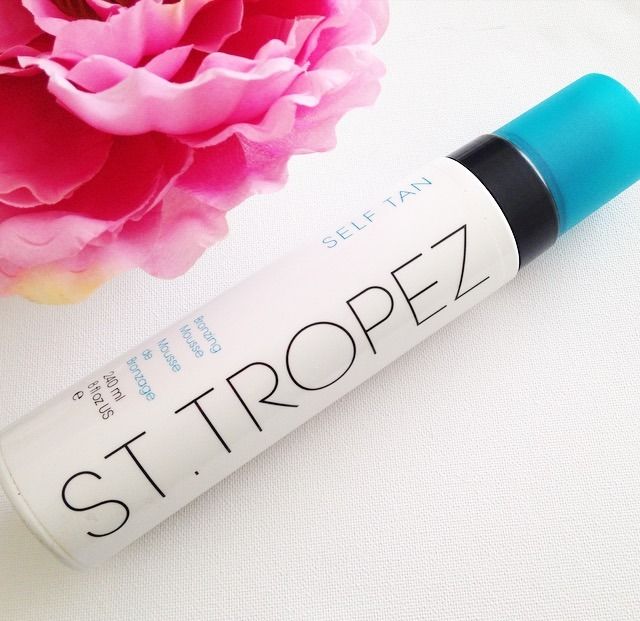 Using self-tanner is not something I do often because it requires a lot of time and effort that I just don't always have. However, during the winter my already fair skin turns a blinding shade of white, so when I plan an evening out I turn to self-tanners to gain a little extra confidence. I don't know what it is about having a tan that makes me feel 10000000% better about myself (and I wish I wasn't this vain) but I just feel thinner and healthier looking when my skin has a bit of colour. After hearing countless horror stories about tanning beds and the negative effects they have, I've steered clear from ultraviolet lightbulbs and turned to the tanning in a bottle approach.
I'm on my third bottle of St. Tropez now, so I've definitely used this product enough times to have an accurate view of its ups and downs. If you're new to self-tanning, the golden rule is to exfoliate beforehand and moisturize any dry areas. For me this is my ankles, elbows, the insides of my elbows, and my knees. DO NOT skimp on these steps because if you do your tan will be uneven, and you'll look like a streaky mess. Trust me.
I find it easiest to apply this product with a mitt, but you can use your hands if you give them a thorough scrub after. You'll notice that when you first apply you'll look very dark, but it's just the guide colour working to show you the spots you may have missed.
Okay, on to the pros and cons I've noticed with St. Tropez:
Pros
1. The biggest and most obvious pro to begin with is this stuff really works. It leaves me with a gorgeous glow every time.
2. It dries quickly. The worst part about self-tanners is standing around the bathroom naked and bored waiting to dry off, but the longest I wait with this product is a couple of minutes.
3. The bottle lasts me ages, so even though it might seem like you need a lot of product to cover your entire body it's a little deceiving. Then again, it also depends how often you reapply as I generally use this only once a week or less.
4. It fades evenly.
Cons
1. Even though this product claims to be scent-free, it stinks. I mean really reeks. I can't even stand the smell of myself in bed at night, and if I don't exfoliate enough in the morning the smell lingers for the entire day.
2. It costs a pretty penny. A full size bottle costs about $50 at Sephora.
3. Your tan won't last longer than a week. I usually start to notice my tan fading after 3 days if I remember to moisturize every day (I read somewhere that moisturizing prolongs the tan) and by day 7 it's completely gone.
4. The bottle says you can develop a tan in as little as 4 hours before you need to wash off, but in my experience it's more like 10 hours.
Before using St. Tropez: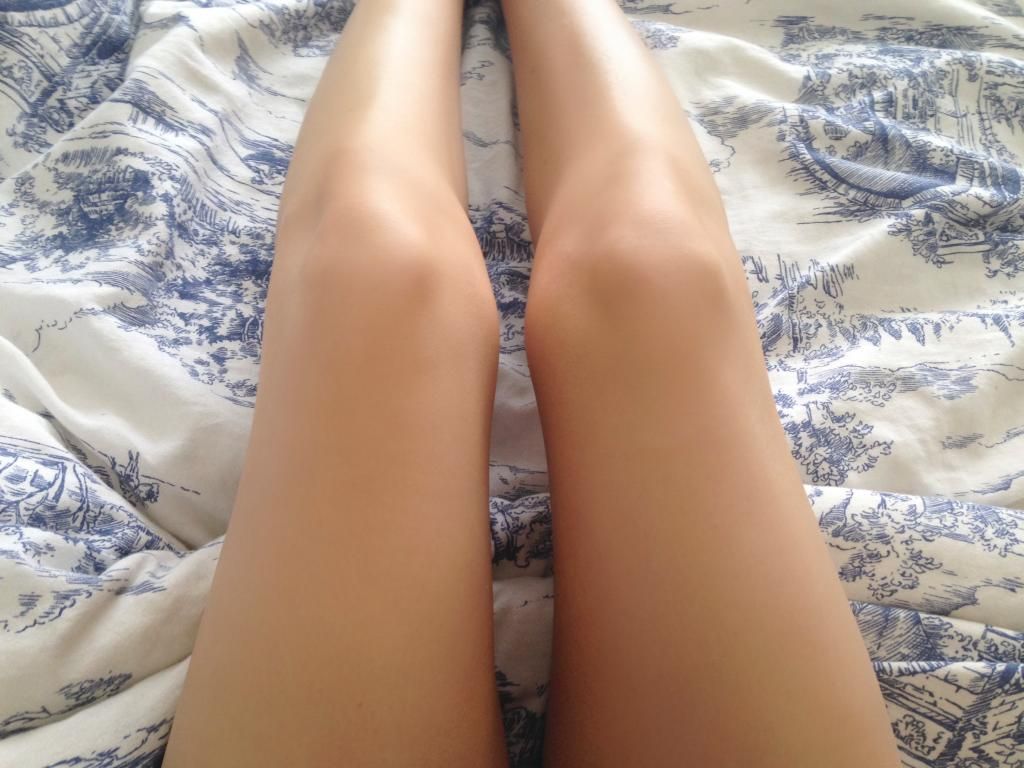 After:
As you can see, there isn't a dramatic difference but my legs are definitely more tanned but natural looking. My legs are also slightly darker in real life than in the photo! If you're looking for a deeper tan, you could reapply two days in a row or purchase St. Tropez Dark Bronzing Mousse. For me this colour is perfect, especially during the winter months where I don't want it to be too obvious that my tan is fake.
What's your favourite self-tanner?